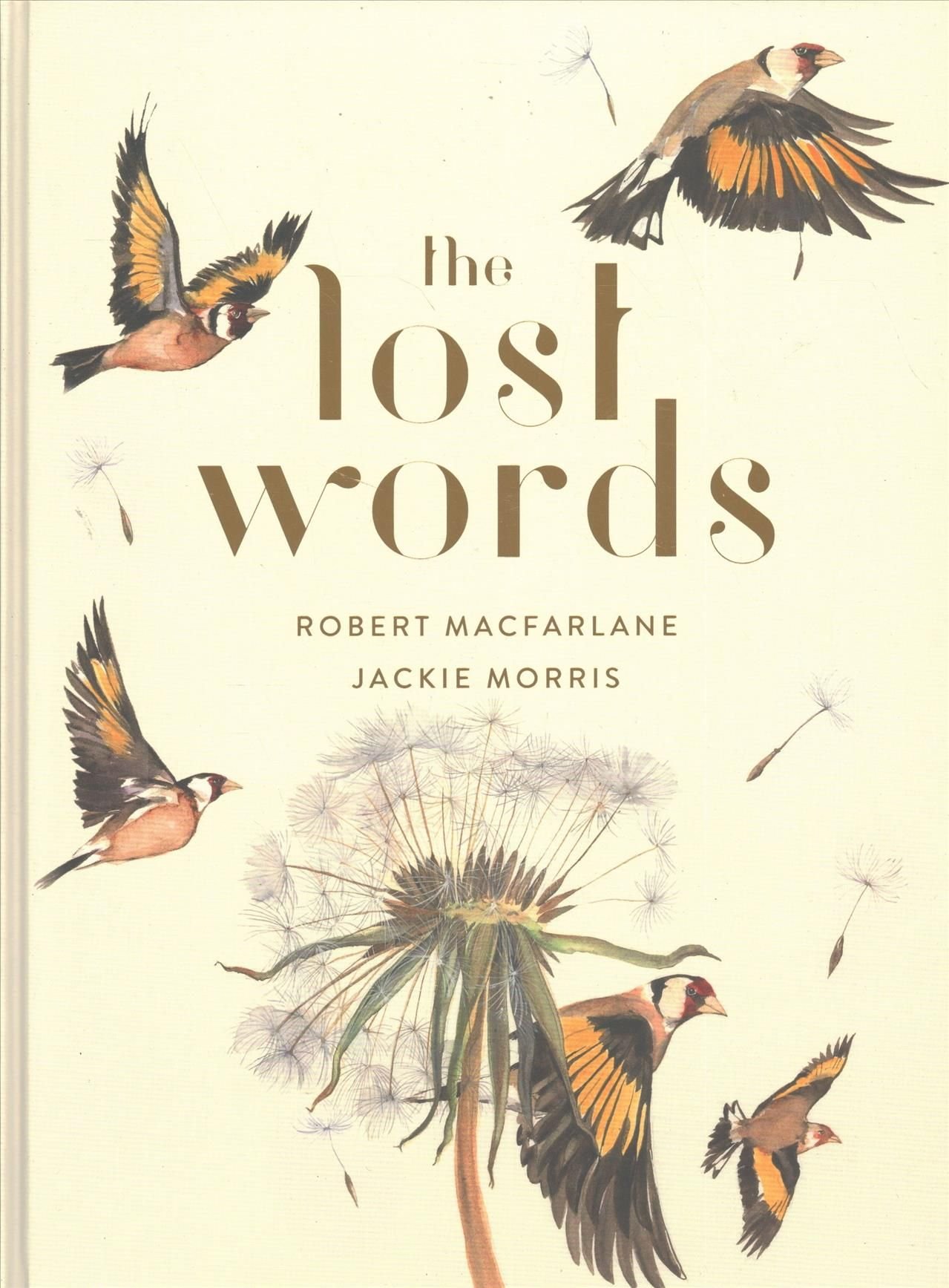 MacFarlane, Robert and Jackie Morris. 2017. The Lost Words. House of Anansi Press, Inc. ISBN 978-1487005382. $35.00 USD.
Not too long ago I read about a book written by Robert MacFarlane that sounded interesting, and because I am a fan of his writing, I ordered it. I didn't realize that it would be a 16" x 12" coffee-table style book or that it was also a children's book. It quite took me by surprise when I opened the larger-than-anticipated box. But oh, how I've come to love this book!
In 2015, when the Oxford Children's Dictionary dropped around 50 words relating to the natural world, a number of prominent authors wrote an open letter of protest, including nature writer, Robert MacFarlane, who was dismayed at the loss of words such as fern, willow, and starling and what it might mean to impoverish children's vocabulary in this way.
(Maria Popova
https://www.brainpickings.org/2019/06/17/the-lost-words-macfarlane-morris/
)
He teamed up with artist Jackie Morris to create an encyclopedia of sorts, but also a "spell book" for conjuring the lost words back, written for readers of all ages, resulting in a "hymn of praise to the wild around us."
The book opens with the traditional "once upon a time" of a children's story, telling us that some words have begun to vanish, "so quietly at first that almost no one noticed." But the spells (poems) in the book might just "by the old, strong magic of being spoken aloud" conjure them back into existence.
Each word has a 3 page spread. On the first, in usually a large amount of white space, we see random letters dancing across the page with line drawings surrounding them. Within these letters is the word, in gold paint, so you can pick it out if you try hard enough. (In the image below you will find the word "kingfisher" for example).
On the other two pages are a beautiful watercolor image by the artist, Jackie Morris, and a spell/poem in the form of an acrostic, so that the first letter of each verse in the poem will vertically spell the word being referenced. The creativity and skill to come up with this entire endeavor is simply astounding to me, really.
The spell for the word "acorn" for example, becomes in the author's hand,
A
s flake is to blizzard, as
C
urve is to sphere, as knot is to net, as
O
ne is to many, as coin is to money, as
bird is to flock, as
R
ock is to mountain, as drop is to fountain, as
spring is to river, as glint is to glitter, as
N
ear is to far, as wind is weather, as
feather is to flight, as light is to star, as
kindness is to good, so acorn is to wood.
And, of course, imagine my surprise when I dreamily turned a page and found that the word "Otter" was included!
I knew that my review of this book would be lacking, as it really is impossible to do it justice with my own simple words. But if you get a chance to browse through The Lost Words: a Spell Book, you will certainly be doing yourself a favor. You can read more about "the making of a modern spell-book" here from Penguin Random House U.K.
https://www.penguin.co.uk/articles/2017/designing-the-lost-words/
Next I will review one of my recent favorite books, one written for those from "8 to 80" called The Boy, The Mole, the Fox and the Horse by Charle Mackesy. I don't read a lot of children's books any more, but these two left quite an impression on me and I want to share them with others.
Happy reading!